Sport news
Present:
1st – Ott Tänak, Toyota GAZOO Racing WRT
1st – Martin Järveoja, Toyota GAZOO Racing WRT
2nd – Thierry Neuville, Hyundai Shell Mobis WRT
2nd – Nicolas Gilsoul, Hyundai Shell Mobis WRT
3rd – Dani Sordo, Hyundai Shell Mobis WRT
3rd – Carlo del Barrio, Hyundai Shell Mobis WRT
Tommi Mäkinen, Team Principal, Toyota GAZOO Racing WRT
Q:
Ott, congratulations, a dominant performance and your first win with Toyota, and number three of your career. How does it feel to win here at the legendary Rally Argentina?
OT:
It's a very different feeling I must say. Our last wins in Sardinia and Germany were a bit closer, we had to push until the end, we never had confidence until the last stage. This time it was quite different. I must say from the beginning, after the first stage, I didn't feel that good, I thought we've played everything we had; we were quite far away. We had some issue with the steering and it didn't look so good, but after this road section we could fix the car. Basically we got all the time back on the next two stages. By then, after the first loop, we were back into business and then after this we had to push really hard to build our lead. Obviously I can't complain too much, we had the car which was performing really well. I had really a confident feeling and obviously it was easy to push hard.
Q:
After the mistake on Friday did you feel at that point "That's it. My chance to get to the podium is over now."?
OT:
At that moment I said to Martin "It is broken, we broke something" because I actually hit something but I really couldn't understand what I hit because when we went on the second loop I was really looking what was there because I had nothing in the pace notes and still I didn't see anything, so it was a bit confusing but ok we're happy that the car was strong. Everything after this was running very smoothly, the car was performing.
Q:
During the weekend you racked up an impressive number of fastest stages including your 100th WRC stage win.  Are you happy with your pace? How did the car feel since everything was working perfect for you?
OT:
Yes, definitely I would say more or less that maybe for the first rally in my career I never changed anything. I did a small adjustment during the shakedown, after the first run, but after this everything was exactly the same. Sometimes it was difficult to come back to Service without any complaint! It's not an easy feeling.
Q:
How are you feeling about your championship challenge now because a really strong event here promotes you into third position in the championship. Things are getting closer to the top. How are you feeling about your title hopes?
OT:
I will definitely keep pushing. I knew from the beginning that I would keep pushing, it's nothing new. Obviously I knew it would be a bit tricky, with the new team there is so many new things to learn but obviously I'm happy. We are getting used to things very quickly and the teamwork is really working well. I have massive support behind me, all the people are really pushing me hard and I'm pushing them the same way. It looks like our team cooperation is working really well. Definitely, it's a great feeling when so many people are behind you, pushing so hard. I hope the championship would be possible and for the moment it looks like the car performance is also there; for sure I will keep pushing them hard to get it.
Q:
Martin, a brilliant win this weekend and it seemed to be so calm. You made it look easy and I'm sure it wasn't. How are you feeling?
MJ:
Exactly, as you said it looked easy but actually in the end we were like pushing in every stage until the end, even in the Power Stage. But I want to say also big thanks to Tommi and for all the team, they have been doing an amazing job, and also local spectators are very amazing. Today they were just amazing, it is hard to describe how crazy they are actually.
Q:
I know you are not a superstitious man but three wins and tell me what has happened on each of the three wins.
MJ:
Actually, coming back from the last stage, on the road section I told Ott that I just got new watches for this rally, and also I got new watches in Sardinia and Germany so maybe I will buy new watches for the next rally. It is expensive, it is an expensive superstition.
Q:
Thierry, talk to me about your weekend, are you happy with Argentina?
TN:
Definitely happier than I was in Corsica. This weekend we were back on the pace which was really nice for us to see straight away, the times were good. I have to say that I started a bit calmer at the beginning because I knew that the rally was going to be tough, many things happened on the first stage so this was a good sign first to say ok let's go at our own rhythm and then start pushing when it was needed, that's actually what we have done the whole weekend. I knew in the fog that I felt comfortable, there was something to do so I pushed hard and the times were good. We have to be satisfied. The team has made a great effort this weekend as well, the car has been running perfectly.  Like Ott said as well, not so many changes during the rally so when it is like this you are comfortable in the car, you can do great things.
Q:
What would you say you found the toughest thing out there this weekend? Was it anything to do with the stages or was it more the weather, the fog you mentioned yesterday?
TN:
I don't know. I think the toughest thing was really to avoid the punctures. There were so many stones all around, deep ruts, and you see the ruts and you want to push hard because it gives you more speed to the corner but you know as well that you can easily take a wheel off the rim and to find a good balance is not easy. I had that feeling this weekend. That's why we had no trouble at all, no punctures, nothing broken, we were able to be consistent and being consistent in Argentina is the key.
Q:
Your role as a co-driver is massively important every single stage but maybe even more so when the visibility is low. Did you feel extra pressure to make sure everything was right in the fog?
NG:
Yes for sure, it is really challenging in the fog. We have to say we are not used to quite extreme conditions and it's quite difficult to have specific notes for the fog, but at that point we are professionals, it's our job. We have just to trust ourselves and we were able to do it. You have to increase the level of concentration and just go for it. I'm very proud of what we did because usually we don't like that much but we have to be able to do it. It was very nice.
Q:
We saw such close competition last year in 2017. Do you think is it going to be closer in the title fight coming to the end of the season this year?
NG:
For sure, it looks like each car is strong, we are really consistent as well and we have few or any car off the road. The championship would be interesting and each point is important so we have to stay focused.
Q:
Dani, a really strong performance here provides your third podium appearance at Rally Argentina. Great result for the team also. Are you happy with everything this weekend?
DS:
I'm happy with the position. I think Ott was in another level this weekend. I fought with Thierry and Kris. I improved a lot during the weekend and that is important. We have now two cars for Hyundai on the podium and that is very good.
Q:
A really strong day for you yesterday, you were very much on the pace. Talk to us about the morning stages and what that was like.
DS:
Honestly, I lost a bit of time in the fog. It was really difficult to drive, of course, for everybody. But I didn't feel very comfortable there. My pace was much better on the long stage. I managed my tyres and I had a good time.
Q:
When we get to Portugal we will see four cars with Hyundai and while you are not doing all of the season, with performances like this, and consistency, do you think that might help?
DS:
It will be interesting with four cars. Only two of us get points, the others are not important. We will try to push in Portugal and I think it will be an interesting rally for everybody because there will be other people, and also Jari-Matti will start later on the road.
Q:
What do you think of the whole atmosphere of this rally?
DS:
It was really nice. Incredible! As usual here in Argentina. A lot of people and very well placed on the stages but, to be honest, I was a little bit surprised in the stages today. It was not the same amount of people as before. I heard they cut the roads and everything because normally when you arrive to El Condor and Mina Clavero it is full of cars at the sides of the road and this year I missed that a little bit. I don't know why the organisation cut the road or something like this, it was strange. I think everybody had the same feeling, not as many people as before.
TN:
Definitely, this year was better. We have to say the organisers have done a really good job. We have had some issues over here before, but this year, except for a few places which can be still improved, I felt safety was really good and it was really enjoyable.
Q:
It has been really nice to see you both really confident, going out on the stages with brilliant times. Are you happy at the end of it Carlos?
CdB:
Yes, I'm happy because as you can remember, my last memories here in Argentina were not so good. My last time here was five years ago. I told a wrong pace note and we rolled with the Citroen. So today I have put everything behind. On this weekend all our team has done a fantastic job and we are very pleased to be here and looking forward to Portugal.
Q:
That's another gravel event and also lots of passionate fans there.
CdB:
Yes, for sure. We have a very competitive package with high profile drivers and co-drivers, and also the team, so it is not a drama. We will be very competitive from the very first kilometre and that's great news for us and for the fans.
Q:
Tommi, what an incredible weekend for the team and Ott Tänak! Proof that the team have built a strong and highly competitive car.
TM:
I had this very same feeling earlier, years ago. I think we have all the elements at the moment to continue. It is a combination I know very well. The driver together with the car and the high level of confidence, that's all the elements we need to keep winning.
Q:
Ott has his eyes on the tittle this year. Are you going to be able to provide him with everything he needs to get that tittle? It sounds like the team is going to work pretty hard.
TM:
It was very important for all the team. We have had tough years of hard work, all of us, so much effort to be here learning and to continue developing. To be up here is absolutely for all the team and I would say they are even ready to put more effort to continue.
Q:
It must be a real morale boost for the team to see such a dominant win. Obviously when you signed Ott Tänak you knew he had the potential to be a world champion. Can it be this year?
TM:
Well, of course, the season is still a long way with many different types of rallies. I know what it means to win the title. It means such a lot of teamwork, which seems to be happening at the moment with us, but of course we have seen the last rallies we weren't so lucky. There are different conditions and also luck. You never know. All the possibilities are there. I would like to see with everybody a big fight to the end of the season. And I hope the best for the whole of motor sport.
QUESTIONS FROM THE FLOOR
Q:
On the first stage on Friday, cars started with two minute gaps to the previous. Do you think it was a dangerous mistake of the organisation?
OT:
It is difficult to say before the stage the conditions you are going to have. Yes, it was dangerous to drive in some places and we had kind of blind eyes and it was difficult but, again, I must say the organisation responded really well and for the second stage we had a three minute gap. And then, everything was good.
FIA WRC 2 CHAMPIONSHIP
Present:
1st – Pontus Tidemand, Škoda Motorsport
1st – Jonas Andersson, Škoda Motorsport
Q:
Congratulations to you both! Pontus it was a win for you last year, another one this time. How did you find this weekend? A tough one? Tougher than last year?
PT:
Yes, for sure. There is more competition this year but it is a rally that I really like. The stages have been very nice, it was a very good course. I have been really enjoying it and driving, it's been fantastic.
Q:
We've seen changes to the route this year. What do you think was the most challenging aspect out there this weekend? Was it the stages, or was it the weather conditions that you experienced?
PT:
The weather conditions yesterday morning were quite challenging. For sure, we were too careful in these conditions. We didn't have this as planned, that's just to learn and not to make the same mistake again.
Q:
We saw a great battle with yourselves and Kalle Rovanperä. How much were you pushing out there trying to catch him?
PT:
Yes, this morning it was a good first stage, we caught up a lot of time. We did a very good second stage. Unfortunately, he crashed and it was such a shame because he should have been first or second, but that's how it is in rally. It can happen.
Q:
Have you been pleased with your pace this weekend?
PT:
Yes, a rally like this is always a balance to find the rhythm and not destroy the car and running too quick is not too easy, so in some stages today we did not have a very good pace, I would say. It's been an up and down weekend but what can I do? It's like this.
Q:
This win puts you in the championship lead in WRC 2 but as ever we never quite know where we are we going to see you next. Do you know what your next event is going to be?
PT:
Yes, Portugal will be our next.
Q:
How much are you looking forward to that?
PT:
I am really looking forward to it. In Portugal there will be many fast drivers. The only strategy is to be flat out, it is the only thing that you can do.
Q:
Jonas, it was a very good round for both of you. How are you feeling at the end?
JA:
It's been a very good rally for us. Like Pontus said, we had the strategy, we tried to take a little bit of care of the car and still we pushed a bit and I think we had a very good pace overall. This morning we really tried to set a good time, to put pressure on Kalle because you can never really be happy with the second place. The strategy worked, maybe not completely but we got 25 points and we are really happy with that.
Q:
We've seen some changes as I mentioned to Pontus with El Condor going uphill, a change that we have never seen before. Fresh notes for you, of course, how did all that work?
JA:
I really enjoyed having El Condor this way. I think it was really nice for a change, for all the drivers not just the younger ones. All drivers, not the younger ones, have done it many times. I think it was a very good switch to go uphill and it was a really enjoyable stage, we were out there with all the spectators. It was amazing, I mean, people from the first metre all the way up to the finish line, it was an incredible stage.
Q:
We saw such success for you both last year in WRC 2. Do you think it is going to be tougher this year?
JA:
I think it gets tougher and tougher every year, definitely. We are working very hard to be on top of the podium when the year is over. We're going to keep on pushing for that.
Q:
The atmosphere, the passion of the fans, is something special here…
JA:
Yeah, definitely. People here are very passionate for the rally and as you said, so many spectators. So many spectators, also in the road sections. People everywhere taking pictures and waving and all that. People are very friendly so it's really great to be here.
QUESTIONS FROM THE FLOOR
Q:
Pontus, a second place was good for you, too. This is a part of the secret of the success, you were calm and waited for the mistake of Rovanperä?
PT:
For sure, it is part you can say. But as I always say, for the team we want to be first or second. We didn't want the situation to be like this but for sure it is a bit of an experience.
World Rally Championship
Rally ArgentinaWRCWRC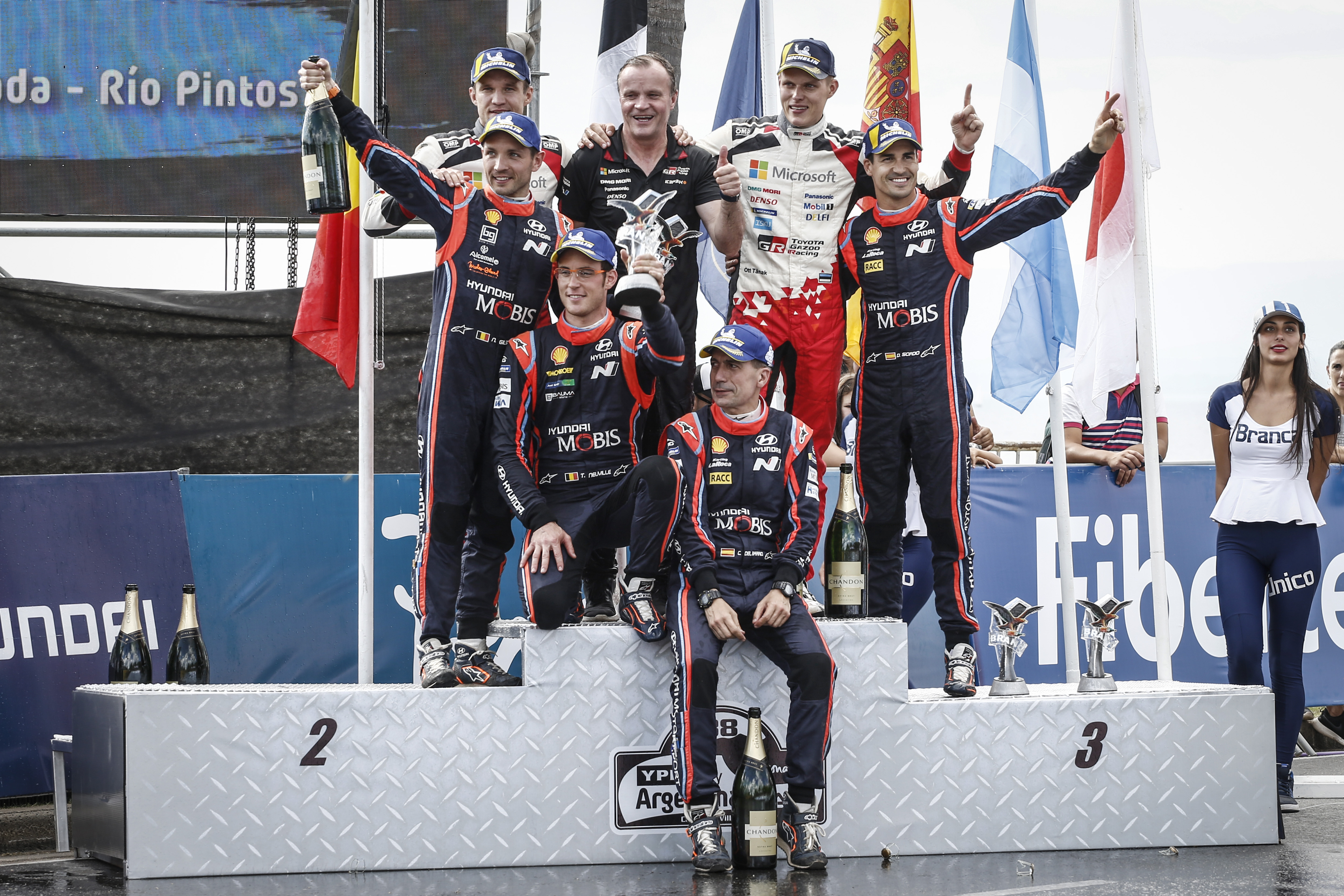 SEASON 2018SportRallies1SportWorld Rally ChampionshipRalliesWRCSEASON 2018Rally ArgentinaWRC00Sunday, April 29, 2018 – 11:25pmSunday, April 29, 2018 – 11:25pm